Gujarati Midday Newspaper Ad Options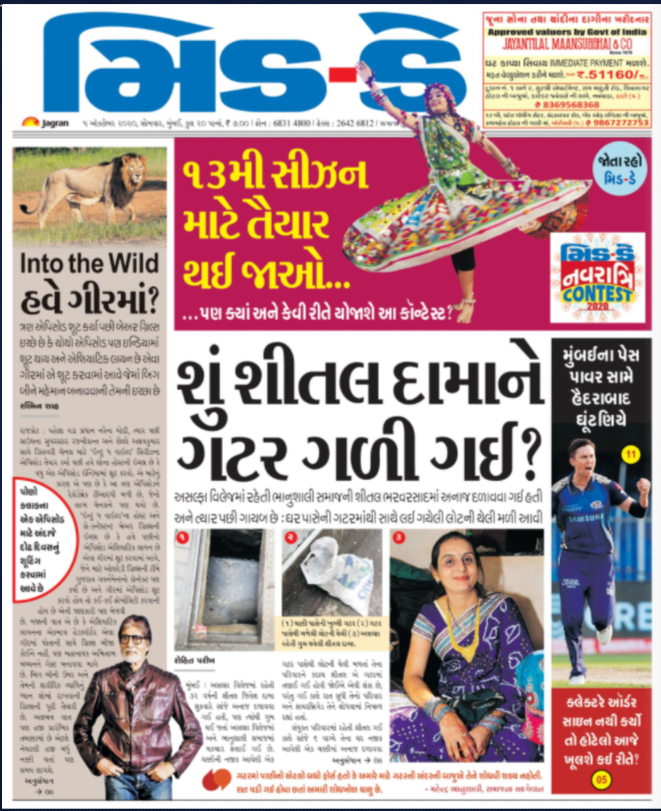 Category :
Main Newspaper
Publishing Day :
All Days
MID DAY Gujarati is an afternoon gujarati daily in India with editions in Mumbai (Bombay), Bangalore, Delhi and Pune. Booking classifieds in Mid Day is your best option for those who chose to advertise in major cities like Mumbai, Bangalore, Ahmedabad.
---
CLASSIFIED
---
Category :
Classifieds Supplement
Publishing Day :
All Days
Gujarati Midday Classified Ads is cost effective and ideal platform to advertise on for Matrimonial,Property,Obituary, Recruitment, Education,etc type customers. Ad cost is calculated based on the number of lines used.
Why advertise in Gujarati Midday ?
WHY ADVERTISE?
---
releaseMyAd assists its advertisers in a way to get the best response to the advertisements. We take care of your advertisements. We design them and then place the ads in Gujarati Midday newspaper as per your requirements. We place your ads correctly in Gujarati Midday pullouts.
Gujarati Midday is among the best newspapers of India
It is also among the most read newspapers in the country, specific to its region of ciruclation
The reasonable cost of booking ads makes Gujarati Midday the first choice for many advertisers in India
Gujarati Midday enables you to publish Display ads under various categories or sections. These categories may be chosen as per your requirement ranging from Announcements, Obituary and Education to Public Notice and Tender ads.
Gujarati Midday also provides economical discount and combo packages while booking advertisements through the authorised online newspaper ads booking agent-ReleaseMyAd.
Display ads are charged on the basis of per square centimeter unit. Through our exclusive online booking facility, you can book your advertisements in the reputed columns of Gujarati Midday instantly and easily. The online transaction is made easy for you without the claim of any extra charge for our special services.

Display advertisements have a better visibility and hence every display ad that you book in Gujarati Midday newspaper is benefited with greater response. These ads can be published on any page of the newspaper; be it RHP, LHS, front page or second page and this option makes them more flexible than any other ordinary newspaper advertisements.
Gujarati Midday Ad Booking Process
BOOKING PROCESS
---
ReleaseMyAd presents the instant ad booking facilities for display advertising in Gujarati Midday newspaper. Here, we give our advertisers a trustworthy and hassle-free platform for booking display ads online in the following simple steps:
Select a special pullout page from the Main newspaper, Jobs and careers, or Obituary.
Select your preferred city and view details for your Gujarati Midday display advertisements.
Next, you can choose the ad size (Quarter, Half, Full or Customized ad size), ad type (Color or Black & White) and Ad Position (Front, Back, Third, Any RHP or LHS page) You may also go for Jacketed, Pointers, and Skybus display ads.
View the Advertisement Cost and Package rates. Select 'Start Media Negotiation' tab, fill in your display ad requirements and avail the special offers and further discounts.
Then, proceed to compose your ad by editing from our existing ad templates or uploading the ad design in PDF/JPEG/TIFF format.
Finally, let us know your preferred day of publishing the ads and then make payment via our various offline or online channels.
We at releaseMyAd also offer advertisers with the service of designing ads by our experienced designers.
In order to know more, contact us via phone, mail or chat with us anytime.